Branding is the face of any organization & We make sure it is Manifestly Distinct and Positive
Whether you launch a fresh brand beneath your company or revitalize a present one, describing your brand, noticeably provides you a comprehensive definition and direction. We all understand that a big brand amazingly excels in the mass & crowd while presenting you with a respect which is both loud and true. Thus, branding needs to be a crucial part of every company's marketing plan, whether it is big or small.

At Nilson Solution, we offer astounding and extensive web branding services which help you describe the brand in a manner which is surely the most attractive, distinguishing and engaging. We understand that each business is dissimilar & its branding needs are unique. Therefore, to proffer the finest web branding solution to any company, we begin with severe research & spend enough time to analyze our customers business & its branding needs.

We also carry out an inclusive market analysis for understanding the brands current standings in the market. Then, we make a unique branding strategy which can enhance brand image while boosting businesss ROIs.

We,
Recognize the competitive potencies of the brand and influence them successfully in the market.
Develop an appealing branding strategy for accelerating the growth and recognition of a brand.
Make an appealing message & the identity of the brand for long and short term influences.
- Project Showcase -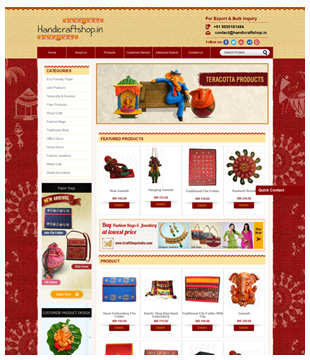 Discription:
Nilson is working on the web branding work for Handicraftshop.in which is a B2B for Indian handicraft items. Nilson know that how important to create online brand for any services or products. Nilson team performed all steps to creating a unique online brand. Looking to the today scenario where most of the people are technology savvy & active on online world, so a handicraftshop's online presence is required in the current market trend.

Defining your brand
We, at Nilson Solution, focus first on describing your brand & then start eloquenting it. By changing our research to insight & that insight to a plan, we allow our customers businesses to get the value which is locked in their brands. Nilson Solution deploys techniques such as Brand Positioning, Mapping and Architecture for ensuring a well-defined place for the brand in the strong-willed market of not only today, but also tomorrow's. We always make a unique branding strategy for each customer as we consider uniqueness and simplicity are the 2 pillars for flourishing brands.

Developing the identity of a brand
There is an extensive dissimilarity between introducing any brand in the market & giving life to any brand. By beating the sensory keys of persons, we recognize and deploy brand signals that articulate the experience of the brand. Some tools which we use for developing the brands identity comprise Packaging Identity, Verbal Identity, Visual Identity & Image Mapping.

We have an efficient and successful team of the branding experts who are incredibly creative and inventive at their job. They unite their extensive skill with fresh novelty to design appealing brand policies and flourishing brands which associate with the viewers instantly.

For more information about brand management services from Nilson Solution, You can Contact us for your queries.