We serve Excellence with Affordability
Website maintenance comprises editing, revising or changing the on-hand web pages for keeping your site updated with new content. The episodic addition of fresh web pages also is the part of the service of website maintenance. All sites should be maintained to keep the content of that website current.

Accordingly, some websites require daily updates, whereas others need only periodic maintenance. There are some rules according to which the listed sites of search engines change constantly. With no updating as per these latest rules, any website in the listings of search engine can simply get "buried".

That is why, website maintenance is becoming necessary these days as even though the servers offer 99% uptime, but still it is essential to monitor the mail links and forms at least once in a week to be two times sure that all the surveillances are being front-warded from the site rightly. By outsourcing the website maintenance work to a professional, you become free from regular expansions and updates. Nilson Solution provides you with affordable website maintenance services and take-on the job of regular website, maintenance of the existing sites & make changes as & when needed.


- Project Showcase -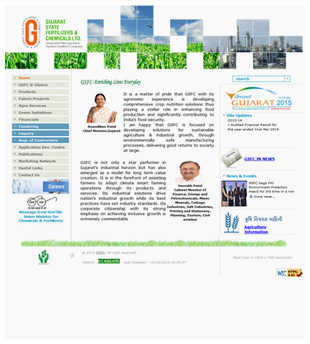 Technology: ASP/ MSSQL + HTML / CSS + SEO
Discription:
Gujarat State Fertilizers & Chemicals Ltd., Baroda called us to bid for maintenance of their existing website. They elected us to manage the website for 1 year along with SEO services. We have been maintaining all updates and contents given to us for 12 months, also produced result in SEO. They gave us their Fertilizernagar school website work as well.

Why Website Maintenance?
Websites arent projected to be fixed even though they are set up as a fixed html site. The worth of any practice site is the capability to maintain recent online information at an affordable cost. At Nilson solution, we provide the best affordable website maintenance services. To aid you to maintain recent information online, our company provides many options for the website maintenance.

If you make usual variations of your site over time, then you can get into the website maintenance agreement with Nilson Solution and save your money as we provide affordable website maintenance services. The website maintenance agreement usually lasts for 1 year unless you desire to enter into an agreement for an extended period.

The monthly cost for maintenance depends on your websites size at the moment the agreement is signed. Nilson Solution offers you maintenance agreement to renew your online news-sheet, to emphasize several services on revolving basis or for promoting time sensitive programs, workshops or services. Under our site maintenance agreement, you are allowed to make a limitless number of text -revisions to on hand web pages. Kindly keep in mind that, new pages if added to websites will cost extra.

We consider that this is the lone sustainable competitive benefit of the future. Thus, we are dedicated to relationships & long-term mutual partnerships. We are interested in building applications and managing applications as well, in order that our finest skills can really complement any business.


Want to know more? Feel free to Contact us